Our Church Pastor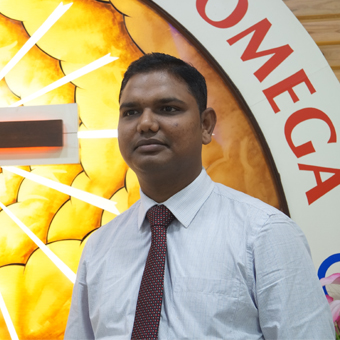 About Rev. Jesu A. Karunakaran
(Presbyter-In-Charge at Methodist Tamil Church, Chembur)
Pastor Rev. Jesu A. Karunakaran has been tenaciously serving as a full-time licensed minister with the Methodist Church in India (MCI) ever since he received his calling in early 2000. He strongly believes that God protected his life and called him to do His ministry through a prophetic verse from the Bible (Book of Isaiah, Chapter 49, and verse 16). Looking back down on the yesteryears, growing up in the family wasn't easy either for Rev. Jesu, as his father was a staunch Hindu. After a series of mishaps in the family, he is their fifth child who survived since birth, along with his younger brother. Unfortunately, the ones born before him didn't make it. That in itself is very inspiring to know, how God had faithfully chosen him to be a witness in his own family. And as soon as Rev. Jesu was born and survived his early childbirth, his parents had him dedicated for the Lord's ministry.
As a young boy encouraged by his parents, he attended a lot of various Christian camps and Youth Conferences, and in one such Youth Camp organized by the BTCYF, he received and accepted the Lord's calling. He went on to finish his Graduation in Arts from Wilson College, Mumbai. And thereafter, he joined Leonard Theological College located in Jabalpur to pursue a 4-year full time course to attain his Bachelor in Divinity degree [Senate of Serampore University].
Rev. Jesu A. Karunakaran made his debut in Pastoral ministry in early 2010, and was appointed as the Presbyter in-charge at Methodist Tamil Church, Malwani. From year 2011 to year 2015, he was transferred to take care of two local churches, namely Ketkipada and Babrekar Nagar. He has now been serving at Methodist Tamil Church, Chembur, since May 2015. He has also been serving in the capacity of a Chairman of the Executive Board of the Bombay Tamil Christian Youth Fellowship – fondly called as the BTCYF.
Right from his early days in the Lord's ministry, Rev. Jesu has always been eager to know and study the Scripture in greater depth, and his sermons do not sway away or meander from the teachings of the Bible. His motto in life is very simple, and regards that his calling is to be faithful, and not be successful. (Adopted from the book of I Corinthians 4.1-2).
Together with his wife, Josepheen, (whom he married in the year 2011), they are wholly committed to serve the Lord as one family. Interestingly, because Sis. Josepheen hails from Methodist Tamil Church, Jabalpur, she is quite well-versed and eloquent with the local Hindi dialect, and uses that to her advantage to minister among the locals in Mumbai. Indeed! A couple well equipped to carry on God's ministry!